ORDERING SITE FOR RUNNING W FARM CHESTERTOWN,MD                                                                                                                                         
SALLY AND SAM                                                                                                                       SIRES  DOUBLE LL ELLIOTT 
                                                                                                                                                    SHAT ACRES MCGREAGOR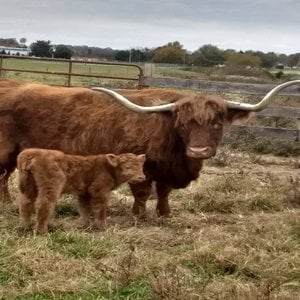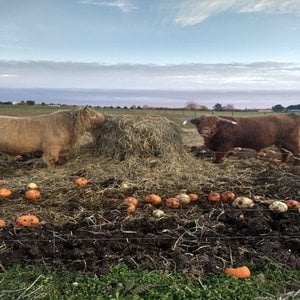 Running W Farm is a family owned farm operated by Jim and Bert Lindauer on the Eastern Shore of Maryland. Our farm has been in Bert's family since the early 1950's. We raise Scottish Highland Cattle. Our Happy Highland Cattle are grassfed and finished.
                                                                                                                                                      HEAT WAVE AND BOB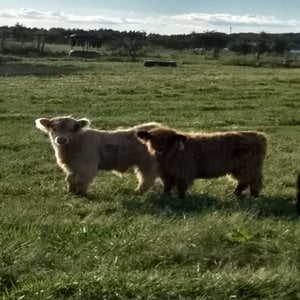 The number one priority on our farm is to grow healthy food for our family. It is our belief that healthy food begins with healthy animals grown as naturally as possible.We raise our cattle under BQA Beef Quaility Assurance and Highland Quality Beef Programs..
Our steers are born right here on our farm. All are pastured and fed high quality forages throughout their lives. All are finished on grass or high quality forage. Highlands are natural forage animals from the isle of Scotland. They have qualities that most other beef cattle lack. Highlands have double coats that protect them from the heat and cold so cattle produce marbling instead of back fat. Feeding the high quality forage and pasturing our cattle thoughout the year allows us to provide animals year round and results in well marbled, tender, tasty beef. We know our beef is far superior to anything you'll find in your supermarket. 
Naturally lean, tender and tasty Pasture Raised Quality Beef
High in Omega 3 and Fatty Acids
More Vitamin E, More Beta-Carotene and Fewer Calories
     PEEK A BOO CALF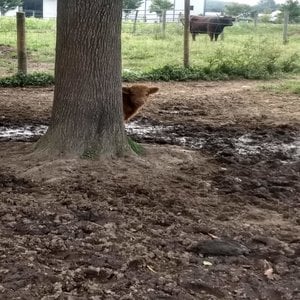 Free of Artifical Hormones, Free of Animals Biproducts, USDA Certified
Results established by University of Missouri study.
Come out for a visit and see how our Highlands are raised and where your beef comes from. 
THOR YORK COUNTY FAIR      HONEY SUCKLE KENT CO. FAIR        GRAND CHAMPION MCGOO YORK CO FAIR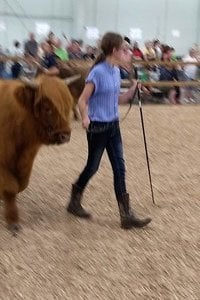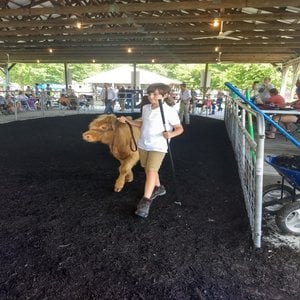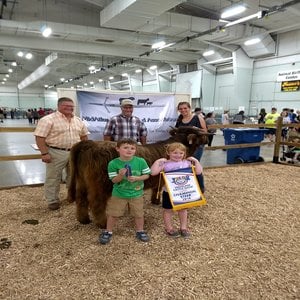 You can order from our inventory at any time. You may come to the farm to pickup your order.  Just place your order and we'll contact you to arrange a pickup time. We are available Monday through Friday 7am to 8pm. Saturday 7am till noon.We do offer free local delivery for orders $250.00 or more.                                              
                                                                                                                                                 FARMERS MARKET TRAILER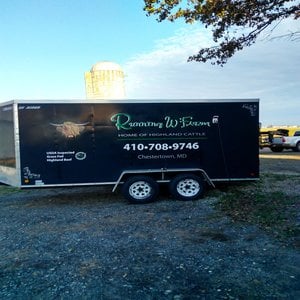 Neighborhood Delivery
You may pick up your orders at the Chestertown Farners market Saturday's 8am till noon. Fountain Park Chestertown Md
Product Availability
To see the products we have available at this moment, simply click on any product categories to the left.  Quantities are limited to what you see.  As orders are placed, the quantities go down instantly.  We update the inventory as new foods become available. 
There is no minimum order size.  You can order anything you see listed.
Naturally, our inventory is changing all the time, and our supply of certain cuts is limited by nature's design of animals.  We need to market all the parts. Catte aren't all steaks and ribs. Everything we sell has healthy and tasty applications.  It's all in knowing what to do with them.  We can help you with that, if you have questions.
Note that many products are priced by weight, so the exact pricing will not be known until we select the actual items that will fulfill your order. However, the shopping cart will show the approximate total cost for each item.  When the order is placed, you will receive an immediate confirmation email with a copy of your order, including the approximate pricing.
---
We Appreciate Your Business
We work hard to provide healthy, wholesome products to our customers in the region. You won't find meat products like ours in your local supermarket.  Our Highland cattle are raised in a way that's environmentally sustainable, truly humane, and naturally healthy. 
Please order from us in the knowledge that you are doing the right thing for your family, your region, and our small business.  Let's build a better future together.